Unity filed S-1/A yesterday so now we have a better grasp on pricing. I'm not going to do a sensitivity analysis table which shows the relationship between market capitalization, estimated revenue / revenue growth and the multiple since FinTwit has done a great job.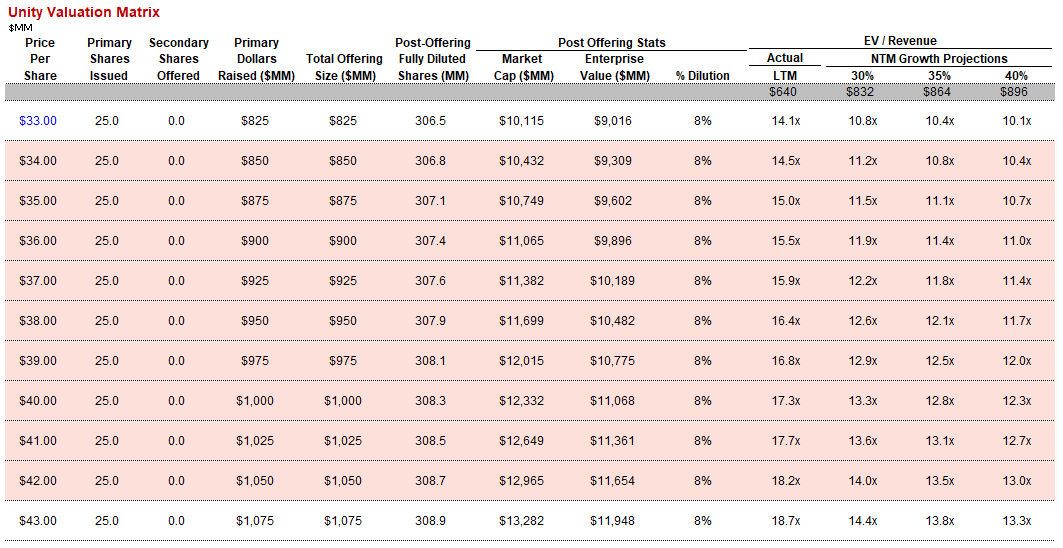 Since it's typical for IPO stock to pop, what you would like to do is extending the table to X dollar per share and check whether the corresponding multiple for the traded share makes sense to you. Jamin has done a great work on the SaaS valuation comp categorized by the growth.
I talked about the runway and opportunities. By being very long-term oriented and aggressive (or naive), the posts probably make most readers identify more execution risks than opportunities on the business fundamental. Now let's look at risk of paying too much or what might make the share drop.
Category Change


If Unity is trading at a multiple of high growth category, it might face de-rating when it's not able to consistently deliver that high growth or when investors realize its fundamental actually has lower growth (sentiment change).


Overall SaaS Multiple Contraction


The SaaS multiple has expanded significantly since April, it's difficult to predict whether it will expand further, stay within a band or even contract in the future.


The Robustness of Operate Revenue Growth


Operate revenue (~60% of total revenue for the six months ended June 30, 2020) is primarily generated by Unity's advertising product at the moment. If the advertising revenue growth derailed, Unity might experience severe revision on valuation.


Market Might Not Be Willing to Attach SaaS Multiple on Operate & Others Revenues


Create Solutions revenue is subscription-based which is recurring. However, Operate Solutions and Others revenues are more like re-occurring revenues which might not be suitable to be valued as SaaS business. More investors using sum-of-the-parts (SOTP) on Unity will depress the share price. While I fine with a stretched revenue-based multiple, it's still difficult for me to swallow valuation method mismatch. Be careful when you know your counter-party is very savvy.
Two tweets about Peloton after earnings release might be related point 4 above. To me, Peloton is a software-in-a-box. It generates revenue streams and contribution profits from boxes (Peloton's bikes and treadmills are actually lucrative) and software (subscription). Hardware contributes large portion of total revenue and this revenue stream is re-occurring by market penetration, product penetration (offering market more products or selling existing users different product. For example, a bike user might further purchase a treadmill) and long-cycle product replacement (how many bike you need in your lifetime?). Software contributes smaller portion of total revenue at the moment and its monetization is subscription which is recurring.
Lastly, market is willing to put premium on valuable strategic asset (game engine). Sellers will definitely take advantage of that.
---
Previous posts on Unity: